Supraorganism est une installation réactive composée de sculptures en verre robotisées, animées par un système de machine learning (une intelligence artificielle), et élaborée à partir de données collectées dans une communauté d'abeilles.
Gardiennes de l'équilibre entre terre et ciel, les abeilles ont toujours été une source d'inspiration pour les penseurs. L'observation de leur intelligence est un indicateur de l'état de notre écosystème et elles sont souvent convoquées pour penser le présent.
Aujourd'hui, les techniques de déduction des machines nous permettent d'interpréter une grande quantité de données et d'observer le monde différemment. Supraorganism est une œuvre sur la mémoire des abeilles et leur intelligence collective. Le processus de création est calculé à partir de schémas de comportement observés et analysés informatiquement. Un réseau de neurones artificiels a été entraîné sur les données captées par l'artiste. Ce système de machine learning, élaboré spécifiquement pour le projet, génère des prédictions : un aperçu de futurs possibles.
Ces interstices prédictifs sont incarnés dans une installation visuelle et sonore. Une vingtaine de sculptures robotisées en verre, suspendues sur une structure en inox, se déploient dans l'espace. Les modules prennent vie grâce à leurs systèmes connectés, lumières et moteurs, animés par l'intelligence artificielle en direct. La lumière et le son générés nous plongent dans cette atmosphère prédictive. Grâce à ses capteurs ambiants, l'installation réagit de manière subtile à la détection de visiteurs et s'adapte à leur présence, tel un organisme de vie artificielle.
Le caractère non prédictible du système nous amène à vivre une expérience singulière. La lumière et le son de ce nouvel être organisé réagissent en symbiose tout en se surprenant, s'entrechoquant dans une constellation structurée, organique et flottante. De cet ensemble émane une forme d'intelligence collective : un supraorganisme prend vie, générant lui-même de nouvelles images, issues des ombres et reflets projetés dans l'espace-temps de l'installation.
English below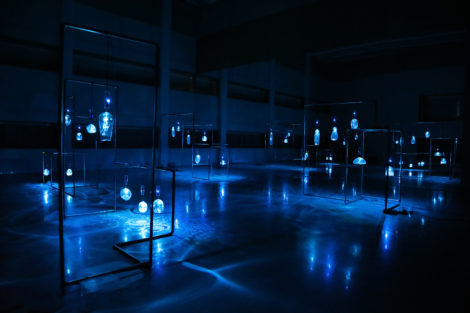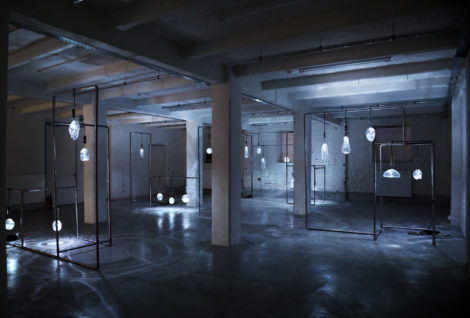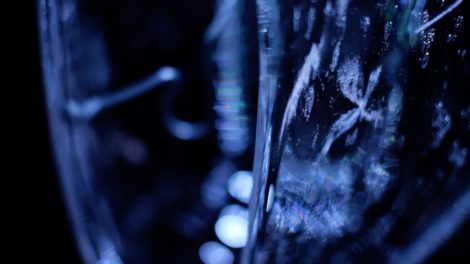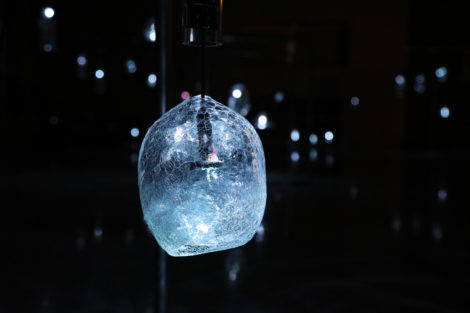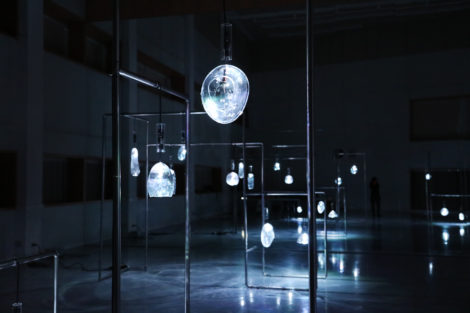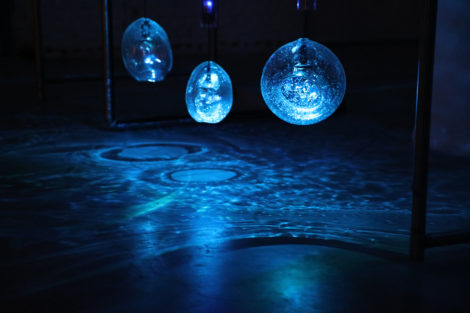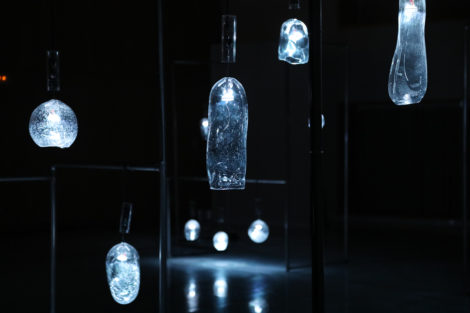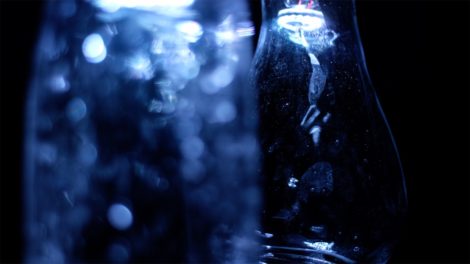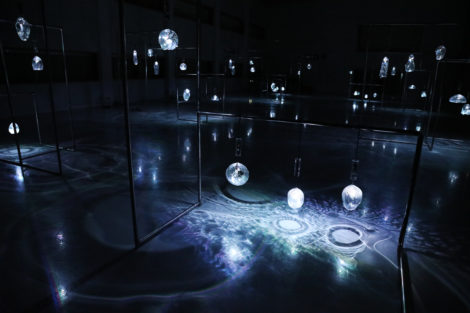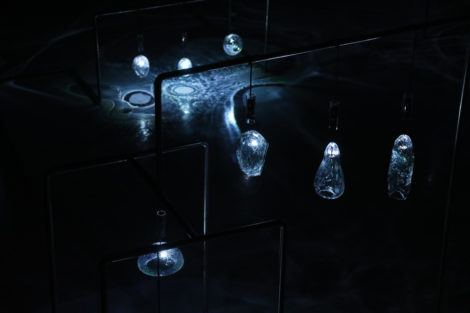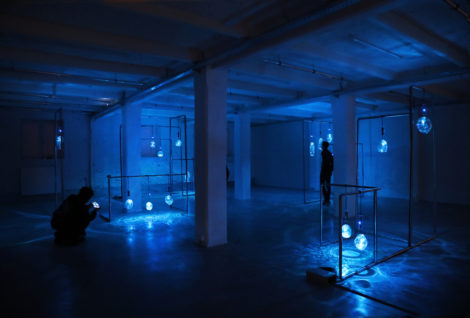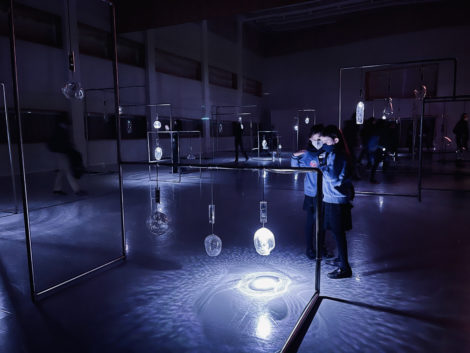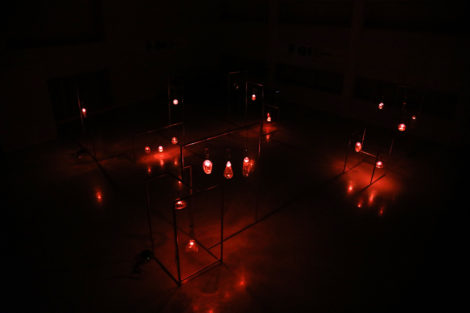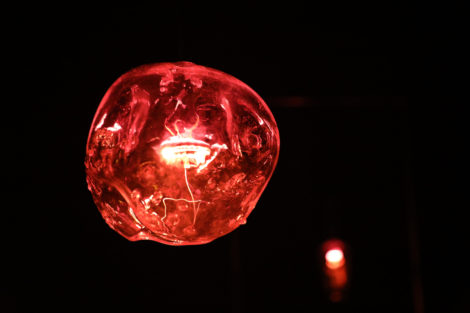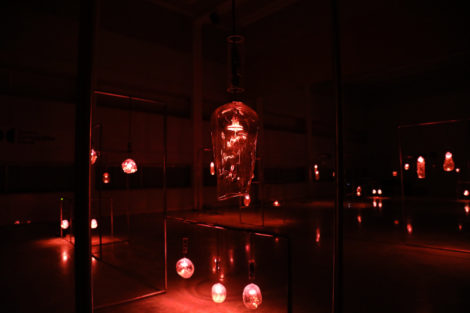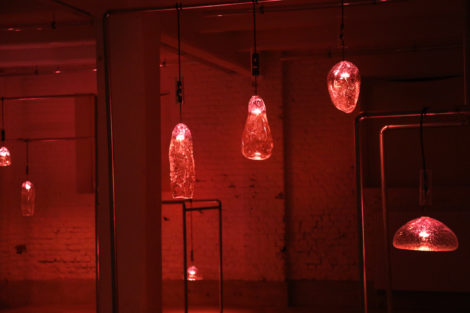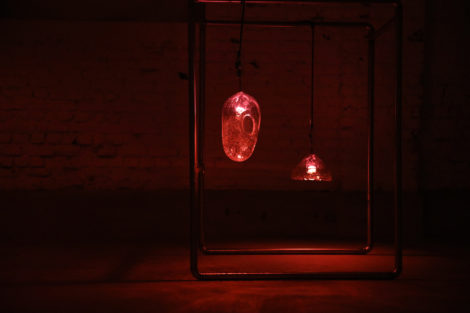 Supraorganism
Justine Emard
2020
Installation (verre soufflé, robotique, capteurs et système de machine learning)
Dimensions: environ 100m2
---
ENG 🇬🇧
Supraorganism
Justine Emard
2020
Installation (blown glass, robotics, sensor and machine learning system)
Dimensions: about 100m2
Supraorganism is a reactive installation composed of robotic glass sculptures, animated by a machine learning system (an artificial intelligence), and elaborated from datas collected in a community of bees. 
Guardians of the balance between the earth and heaven, bees have always been a source of inspiration for thinkers. The observation of their intelligence is an indicator of the state of our ecosystem and they are often called upon to think about the present. 
Today, the deduction techniques of machines allow us to interpret a large amount of data and to observe the world differently. Supraorganism is a work on the memory of bees and their collective intelligence. The creation process is calculated from observed and computer-analysed behavioural patterns. A network of artificial neurons has been trained during the residence at ZKM with the complicity of  Martial Geoffre Rouland, on the data captured by the artist. This machine learning system, developed specifically for the project, generates predictions: a glimpse of possible futures.
These predictive interstices are embodied in a visual and sound installation. About twenty robotic glass sculptures, suspended on a stainless steel structure, unfold in the exhibition space. The modules come to life thanks to their connected systems, lights and motors, animated in live by the artificial intelligence. Thanks to its ambient sensors, the installation reacts subtly to the detection of visitors and adapts to their presence, like an artificial life organism.
The unpredictable nature of the system leads us to live a singular experience. The light and sound of this new organised being react in symbiosis while surprising each other, colliding in a structured, organic and floating constellation. From this ensemble emanates a form of collective intelligence, a Supraorganism comes to life, itself generating new images from the shadows and reflections projected in the space-time of the installation.
Takashi Ikegami | scientific advisor
Martial Geoffre-Rouland | software programming
Stéphane Rivoal | glass blower
Sylvain Garnavault | electronics
Manuel Passard | construction

Sandrine Piq, David Dronet, Marie Delebarre, Benjamin Emard | production team

Photographies : Seb Houis, Kô Oda et Justine Emard
Co-productions: ZKM,Center for art and media, Hertz-Lab (Eastn DC residence*), Karlsruhe, TM+, Festival ]Interstice[ – Station Mir, Caen, Maison de la musique de Nanterre, Les Boréales / festival du nord »*Justine Emard's artist residency at ZKM | Hertz-Lab is part of the »EASTN-DC« project and co-financed by the Creative Europe Programme of the European Union, with the kind support of the Bureau des arts plastiques at the Institut français Deutschland.

---
Performance Diffractions
Ce projet prend également la forme d'une performance / concert en collaboration avec la compositrice Helena Tulve et l'ensemble musical contemporain TM+, dans un programme autour de la musique spectrale « Diffractions ». Helena Tulve a composé une pièce pour l'ensemble musical intégrant l'installation Supraorganism comme instrumentiste à part entière. Les propriétés sonores et l'autonomie de l'installation seront sollicitées dans la performance, laissant une part de la création à l'intelligence artificielle en direct sur scène.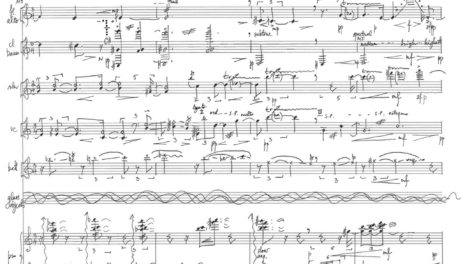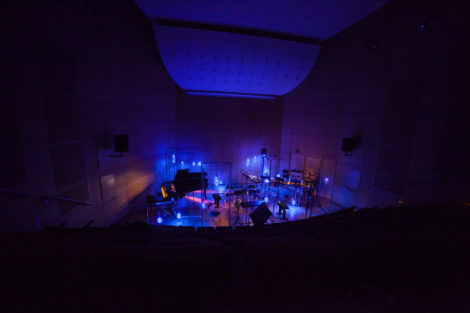 Photo © Seb Houis