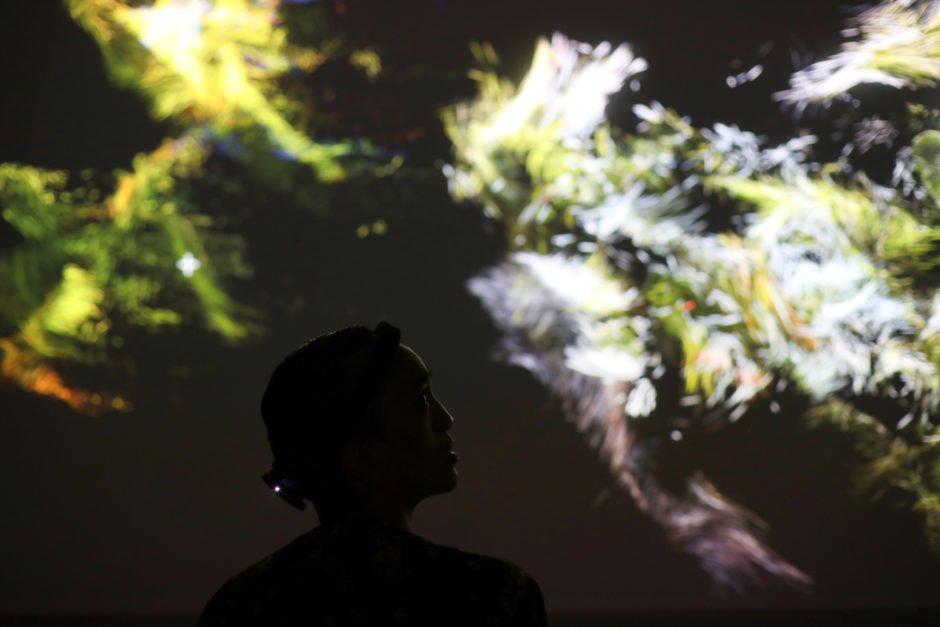 2021
Installation neuro-réactive
Environnement 3D en temps réel, interface neuronale, projection vidéo 4K et composition sonore
Durée approximative : 7 minutes
Justine Emard, artiste, explore les nouvelles relations qui s'instaurent entre nos existences et la technologie. Depuis 2011, elle collabore avec le monde scientifique et crée des installations à partir de technologies avancées comme la réalité augmentée, le deep learning ou l'intelligence artificielle. Ses dispositifs génèrent un territoire d'échange entre machines et êtres humains.
L'installation vidéo Neurosynchronia est une exploration onirique de l'origine que trouvent les images dans notre esprit ainsi que leurs modalités d'apparition. Appareillé d'une interface neuronale légère, le regardeur expérimente une interaction par la pensée dans un écosystème virtuel. Ce dispositif de contrôle numérique basé sur l'attention visuelle, développé avec des neuroscientifiques, rend tangible l'interaction entre le cortex visuel de notre cerveau et un monde virtuel créé ex imaginatio.
L'expérience se compose comme la traversée d'espaces imaginaires, inspirés des "environnements" visionnaires du début du XXe créés par des autodidactes. Chaque instant se transforme en temps réel selon l'attention du regardeur qui a la possibilité de faire éclore des images sous ses yeux, changer le cours de la traversée.
La matière se reconfigure dans des imaginaires liés à la plasticité neuronale en hommage à notre capacité de génération du cinéma intérieur. Neurosynchronia définit une nouvelle zone de rencontre entre le pouvoir de génération de l'ordinateur et des biosignaux du cerveau humain.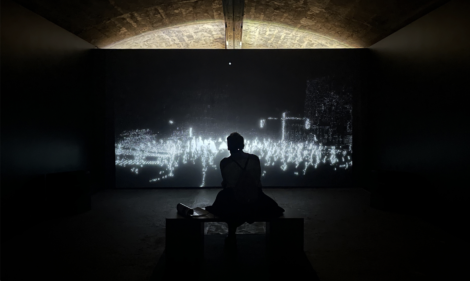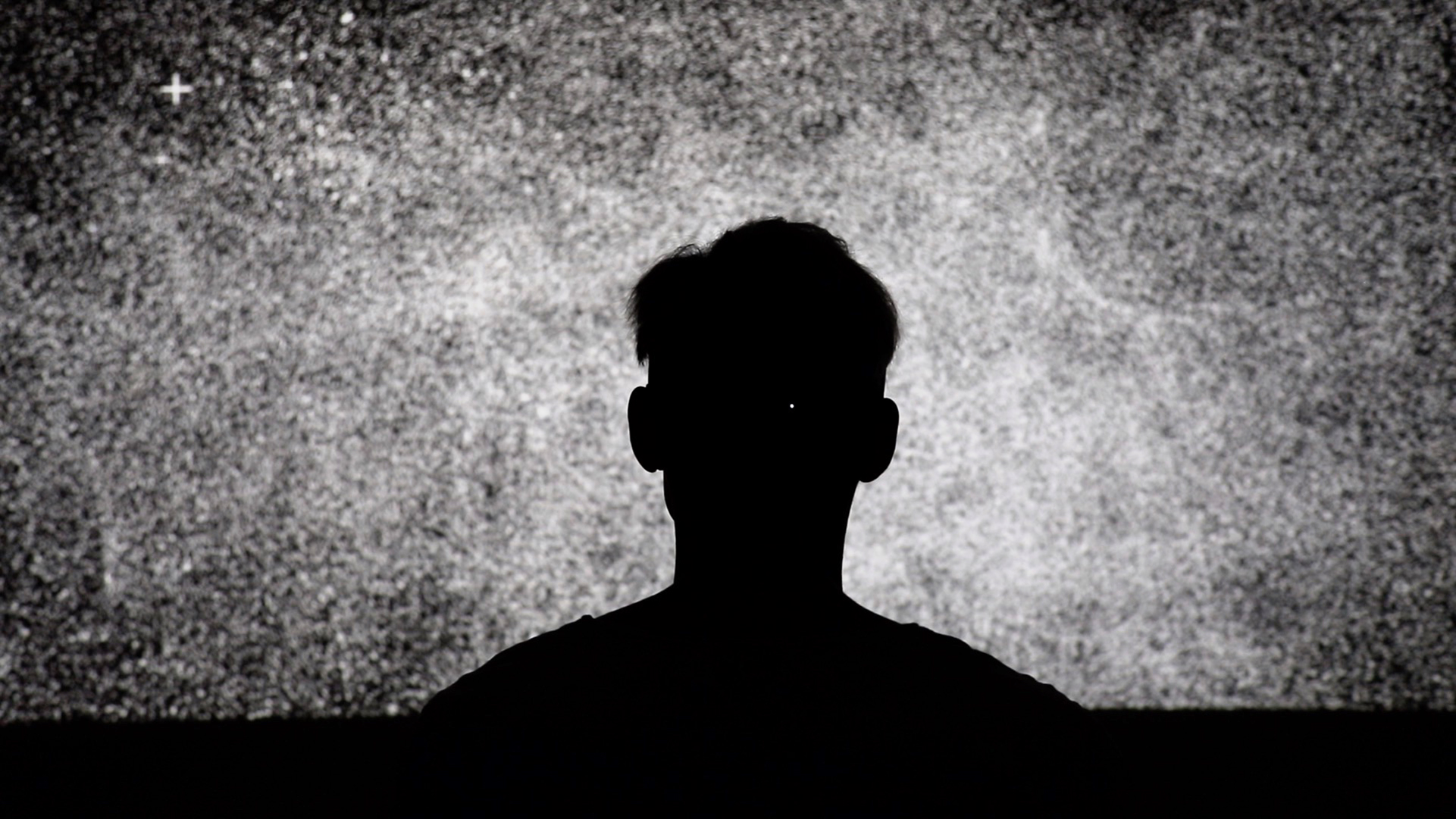 Scans 3D, photogrammétrie et captures lidar : Justine Emard
Composition sonore : Antoine Bertin & NSDOS
Programmation : Ferdinand Dervieux
Interface neuronale : NextMind
Partenariat Leica Geosytems : Capture solutions
Partenariat Lidar : Ouster Lidar
Cette installation a été réalisée dans le cadre de la commande nationale photographique "IMAGE 3.0" du CNAP (Centre national des arts plastiques) en partenariat avec le Jeu de Paume à Paris.
Remerciements : Adolphe Julien Fouéré, Atelier Lorenzi, Pauline et Charles Billy, Ferdinand "le Facteur" Cheval, Frédéric Legros, Romain Sommero, Jonathan Choinard, Nicolas Barouan, Carine Karachi, Nelson Steinmetz, Bertrand Oustrière, Robin Zérafa, Marie Delebarre, Gérard Petit, Martial Geoffre Rouland, Constance Geoffre Rouland, Daniel Auffret, Ben Hazard, Antoine Bertin, Seb Houis, Mathieu Touzé, Yuming Hey, Charles Recoursé, Rémi Antoni, Kevin Trumans.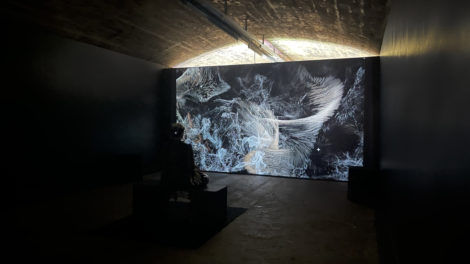 🇬🇧

2021
Neuro-reactive installation
Real-time 3D environment, neural interface, 4K video projection and sound composition
Approximate duration: 7minutes

Justine Emard, artist, explores the new relationships between our lives and technology. Since 2011, she has been collaborating with the scientific world and creating installations based on advanced technologies such as augmented reality, deep learning and artificial intelligence. Her displays generate a territory of exchange between machines and human beings.
The video installation Neurosynchronia is a dreamlike exploration of the origins of images in our minds and how they appear. Equipped with a light neural interface, the viewer experiences a thought-based interaction in a virtual ecosystem. This digital control device based on visual attention, developed with neuroscientists, makes tangible the interaction between the visual cortex of our brain and a virtual world created ex imaginatio.
The experience is composed as a crossing of imaginary spaces, inspired by the visionary « environments » of the beginning of the 20th century created by autodidacts. Each moment is transformed in real time according to the attention of the viewer, who has the possibility to make images blossom before his eyes, changing the course of the journey.
The material is reconfigured in imaginative ways linked to neural plasticity in homage to our capacity to generate inner cinema.
Neurosynchronia defines a new meeting point between the generative power of the computer and the biosignals of the human brain.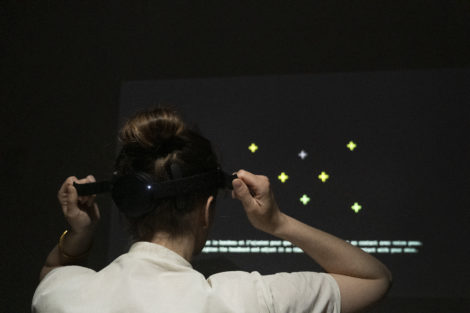 ---