Installation, objets (fossiles, pierres, bois pétrifiés…) et réalité augmentée
dimensions variables
2018
En pratiquant le dépaysement, Justine Emard explore les arts de l'image et témoigne des interactions qui s'inventent entre technologies contemporaines, objets naturels et êtres humains. Son attrait pour les sciences de l'image et du langage l'a conduite, au fil des résidences et des voyages, à entamer des collaborations avec des chercheurs œuvrant au sein de laboratoires de pointe. En mettant en relation des domaines du savoir encore trop cloisonnés et des matériaux d'essences variées – comme le haut-parleur et le jardin en friche, l'écran et la gemme – elle nous incite à récoler les clichés du passé et nous invite à nous souvenir de mondes en devenir. 
Justine Emard propose des dispositifs créant de nouvelles façons de voir et de percevoir. Par sa pratique invocatrice, elle convoque des fantômes; qu'elle diffuse la bande sonore d'un film d'Alfred Hitchcock dans un parc, qu'elle fasse revivre les drive-in d'une Amérique disparue ou qu'elle révèle, à la surface de l'eau ou depuis l'espace, la lumière émise par les pêcheurs de l'île d'Iki au Japon. 
Le Japon, que l'artiste a découvert en 2012 et où elle continue de se rendre régulièrement, a sensiblement marqué son travail. Au cours de ses multiples séjours, elle s'est aperçue de l'existence de connexions entre sa pratique des nouveaux médias et la philosophie japonaise; en particulier avec le shintoïsme qui confère un caractère sacré à la nature. L'humain, l'étoile, l'arbre, le caillou et même certains concepts y cohabitent comme des éléments d'un Grand Tout. 
Cette pensée animiste, encore vivace à l'époque des technologies connectées, affleure dans Exovisions, une installation conçue par Justine Emard en 2017 pour une exposition kyotoïte et qui se trouve étoffée pour «Des horizons et le départ ». Exovisions est composée de pierres, de bois pétrifiés, d'argile prise dans la roche et d'une application de réalité augmentée intitulée Exovision. Pour transformer ces objets naturels en espace de projection et d'imagination, l'artiste a collaboré avec le compositeur Japonais Marihiko Hara. 
Lorsque le.la visiteur.euse s'approche appareillé.e, les minéraux s'éveillent. Apparaissent des univers dans lesquels le visuel et le sonore se confondent, le géologique et le technologique se combinent. L'artiste nomme ces petits mondes des «exo-scapes », rassemblant les radicaux de l'extériorité et du paysage. Inédits pour chaque gemme, ces «exo-scapes » cherchent la métamorphose et tendent vers le merveilleux. Leurs mouvements évoquent l'encre turbulente qui, injectée dans l'eau, permet la création de délicats papiers marbrés appelés suminagashi. Ils évoquent aussi les mouvements imprévisibles d'Alter, un système de vie artificielle, développé par le laboratoire de Takashi Ikegami à l'Université de Tokyo. Justine Emard a fait interagir cet androïde avec un danseur, cherchant la part créatrice de l'aléatoire et l'irrépressible élan vers l'autre, si différent et si semblable. 
Dans l'écosystème technologique composite qui est en train d'advenir, les apparitions de surface proposent des états flottants où se concertent trois temporalités à travers trois types de mémoires sollicitées. Il y a celle de la pierre, éternelle puisque toujours entière même brisée, qui dit le temps géologique; puis celle de l'humain, générationnelle, qui fait surgir les mythes ; et enfin celle des données numériques, nouvelle et ambivalente puisque oscillant entre la durabilité et l'obsolescence programmée. Le regard modifié, amplifié, étonné se prend à imaginer des terres sans frontières, se figure que d'autres mondes sont possibles si on cherche à les faire éclore et envisage le futur comme une réalité à conserver.
Stéphanie Vidal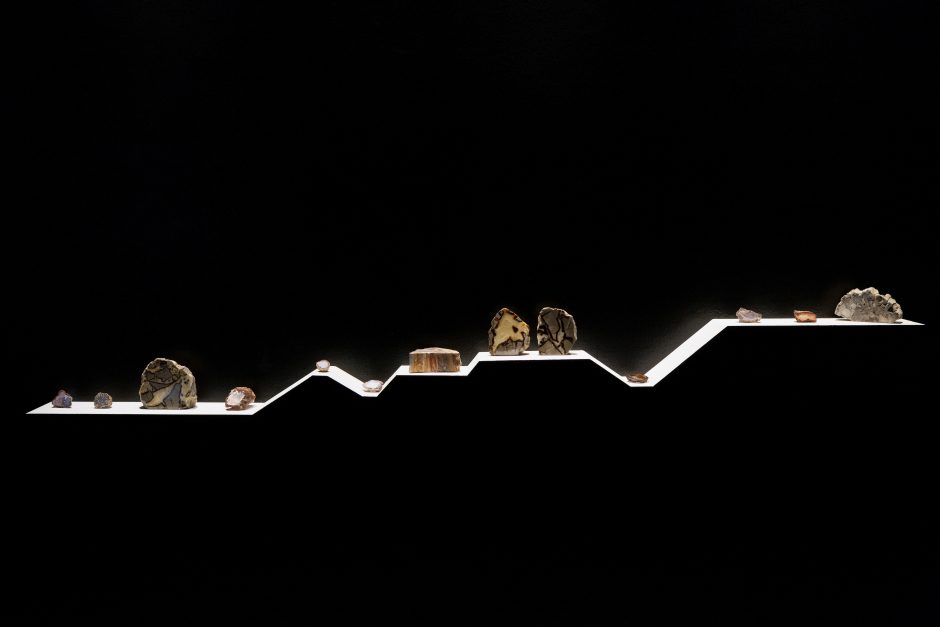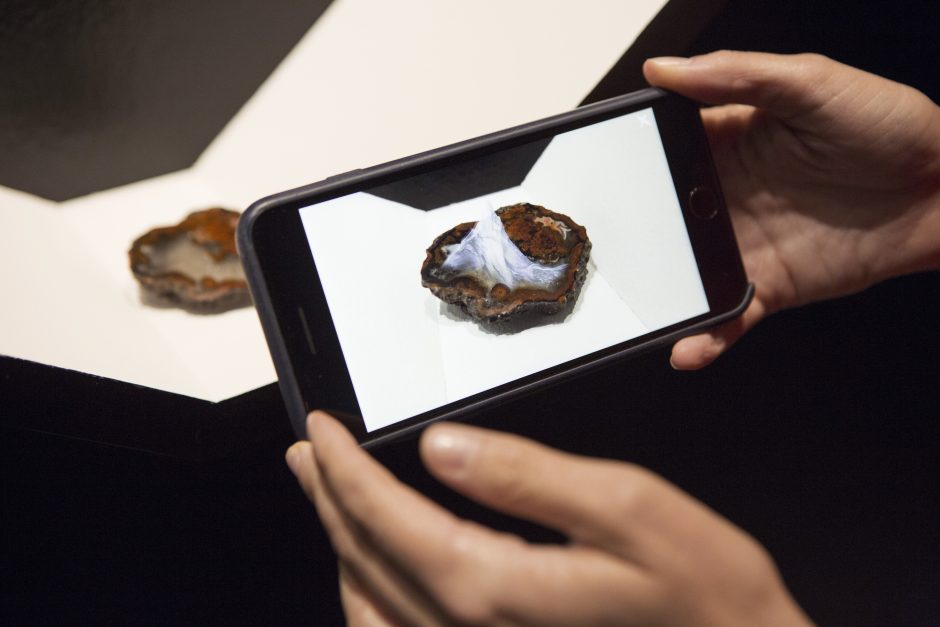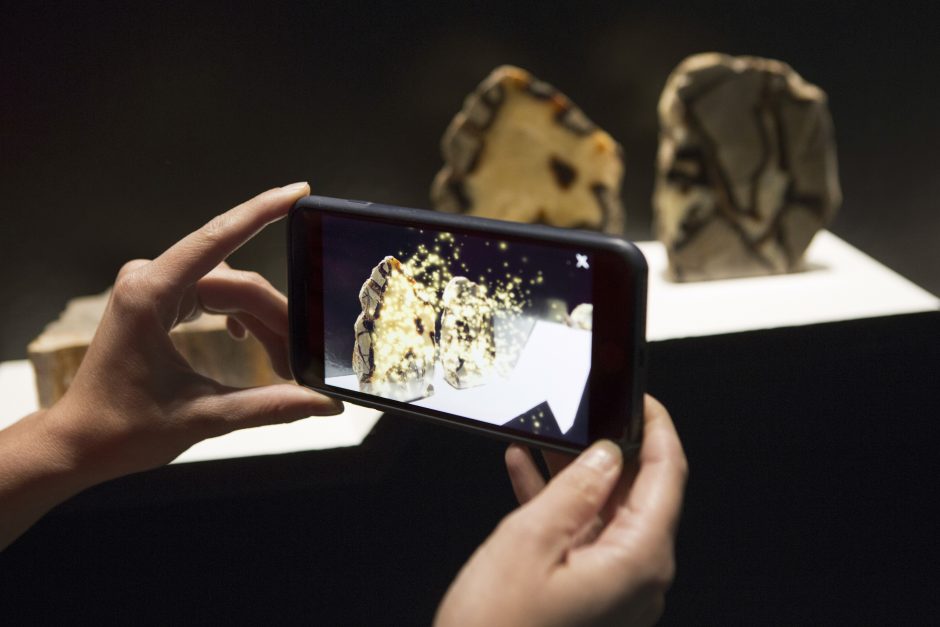 Exovisions
Installation, objects (fossils, stones, petrified wood…) and augmented reality
Variables dimensions
2018
As she immerses herself in different cultures, Justine Emard explores the visual arts and documents the interactions that take shape between contemporary technologies, natural objects and human beings. Her curiosity for imaging and language sciences led her to embark on residences and travel, during which she collaborated with researchers from cutting-edge laboratories. Emard finds connections between fields of knowledge that remain overly compartmentalized and between incongruous materials – a loudspeaker and a wild garden, a screen and minerals – which lead us to recollect snapshots from the past and remember worlds in the making.
Emard's installations create new ways to see and perceive through an evocative approach that conjures up mental images and summons ghosts. She may play the soundtrack of an Alfred Hitchcock lm in a park; use augmented reality to recreate the American cinemas and drive-ins of yesteryear; or capture – from the surface of the water and outer space – the light emitted by fishermen from Iki Island in Japan.
Since her first visit to Japan in 2012, the country has been a frequent destination that has shaped her work. During her various trips, Emard noticed parallels between her approach to new media and Japanese philosophy, particularly Shinto, in which nature is regarded as sacred. Humans, stars, trees, stones and even certain concepts form part of a greater whole.
This animist worldview, which lives on in the era of connected technology, first appeared in her work in Exovisions, a 2017 installation for an exhibition in Kyoto that Emard has expanded for Horizons and Departure. Exovisions comprises minerals, petrified wood and clay enclosed in rock, paired with an augmented reality app called Exovision. Emard collaborated with Japanese composer Marihiko Hara to transform these natural objects into a space for projection and imagination.
The minerals come to life when visitors draw near with their devices. Visuals and sound blend together and geology and technology combine to reveal tiny worlds that the artist calls "exo-scapes," from the roots for "outside" and "scenery." Each mineral has a unique exo-scape that attempts to metamorphose and takes on fantastic forms. Their movements are akin to suminagashi, a process in which stormy ink is injected into water to create ne marbled paper. One also see similarities with the unpredictable movements of Alter, a lifelike robot developed in the laboratory by University of Tokyo professor Takashi Ikegami. Emard had the android interact with a dancer to pinpoint the creative element of randomness and the pull of another being that is so different yet so similar.
In the composite technological ecosystem that is forming, surface apparitions offer floating states in which three temporalities call upon three types of memory. There is that of stone, which is eternal because it remains whole even when broken, as geological time tells us. There is that of humans, which is generational and a fount of myths. Lastly, there is that of digital data, new and ambivalent, as it oscillates between durability and planned obsolescence. Modified, amplified and astonished, one's mind shifts to envisioning lands without borders and imagining that other worlds are possible if we seek to foster their existence and regard the future as a reality that must be protected.
Stéphanie Vidal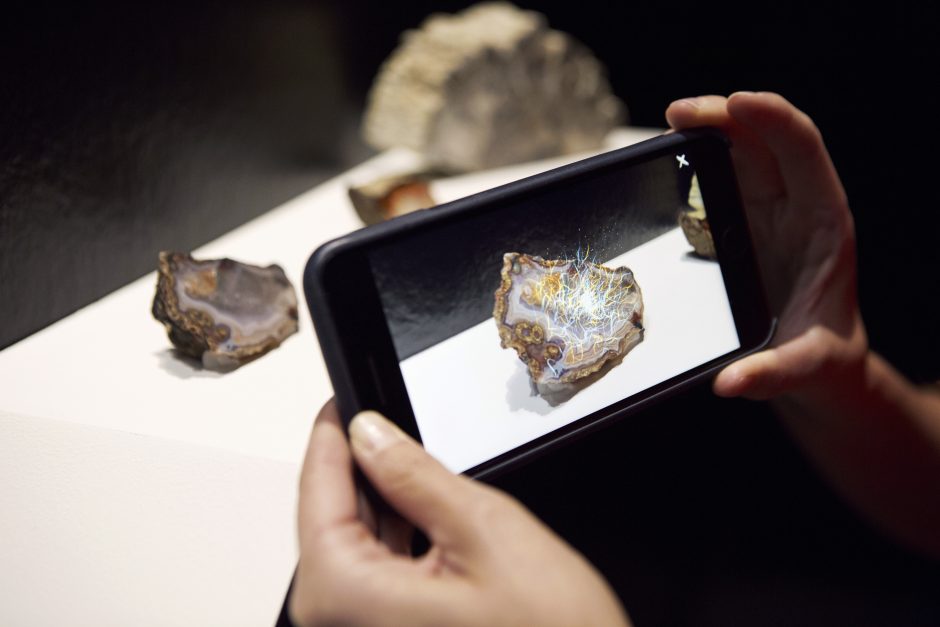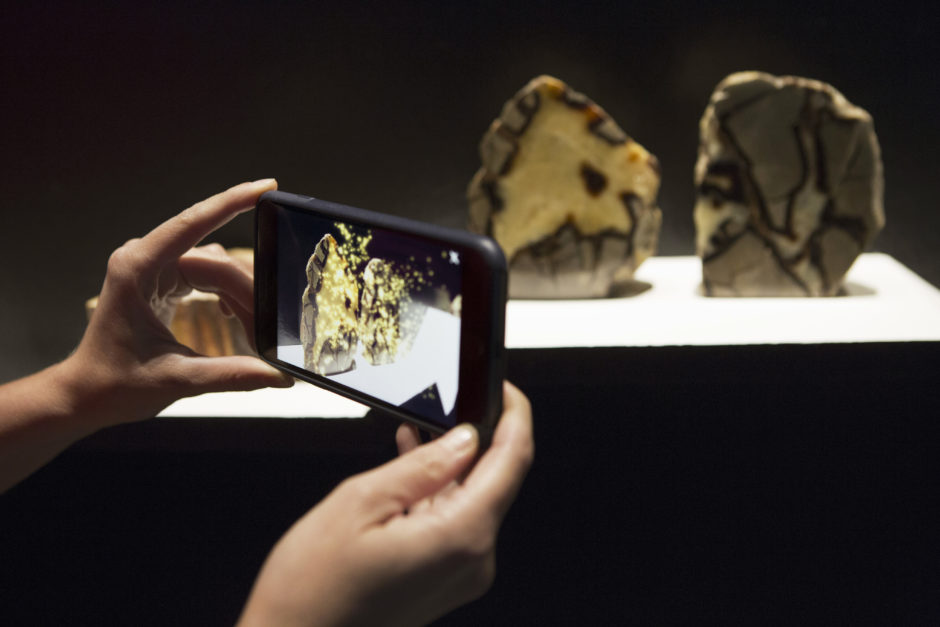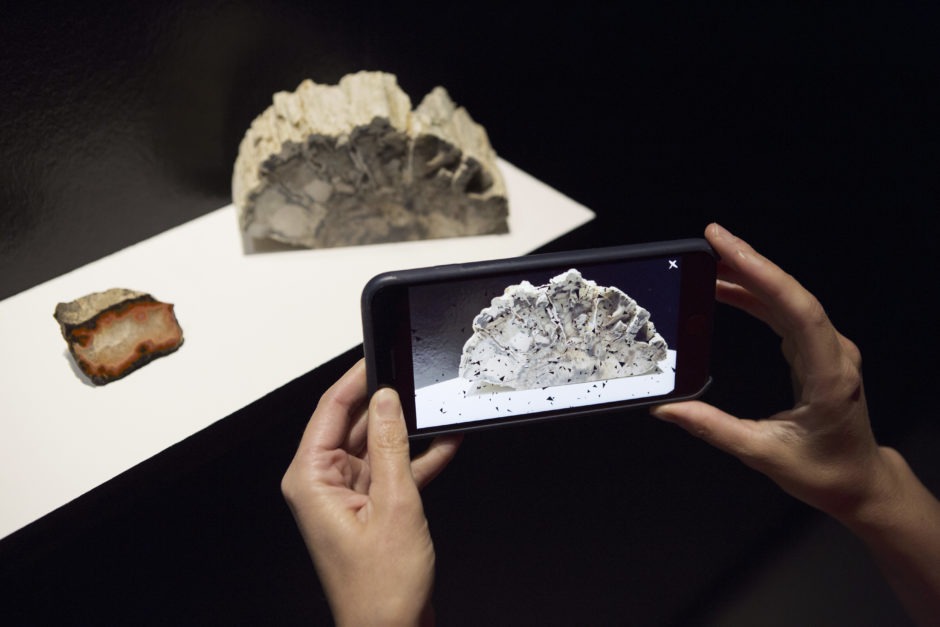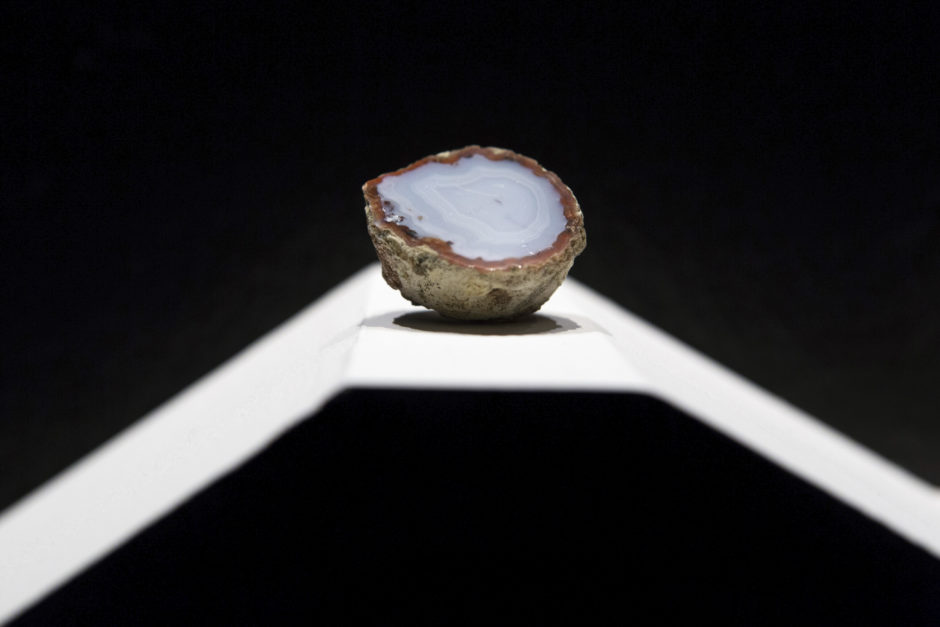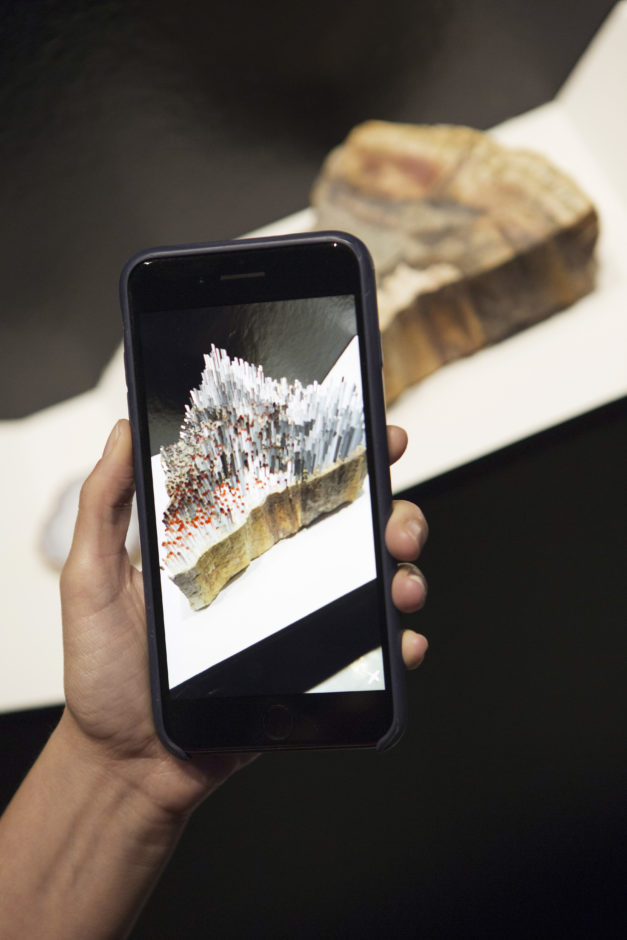 Co-production : « des horizons et le départ », curatrice : Stéphanie Vidal, la Maison populaire (Montreuil) 2018
et « Mitate & imagination », curateur : Tetsuya Ozaki + Nuit Blanche Kyoto 2017 « Paysage en mouvement ».
Photos of the show by MORIYA Yuki (Kyoto), Julien Lombardi (Montreuil) and Justine Emard