24 septembre 2016
Reborn (生まれ変わる), 2016
with Mirai Moriyama & Alter (developed by Ishiguro lab, Osaka University and Ikegami Lab, Tokyo University)
co-production: Hiroshima Art Document 2016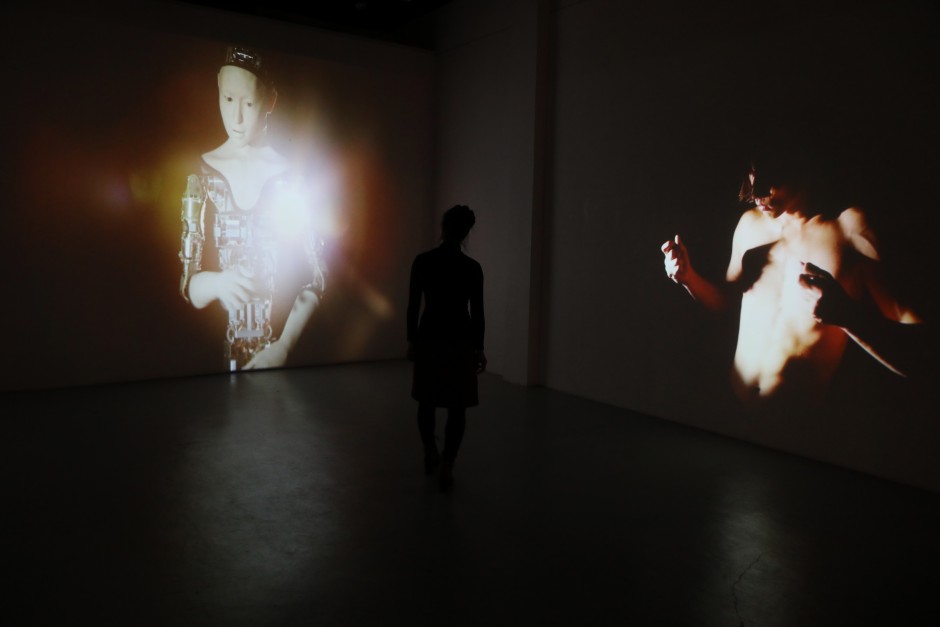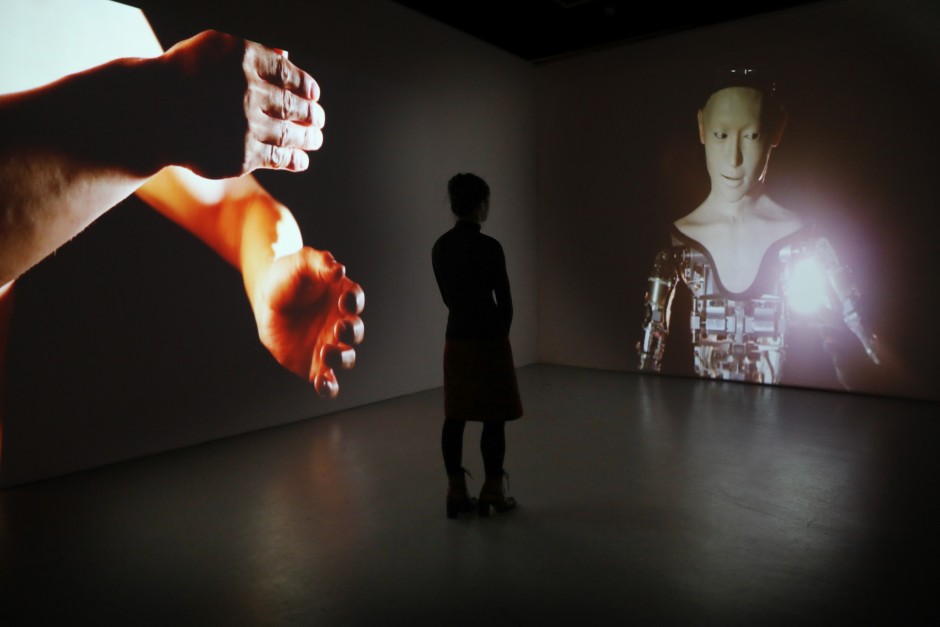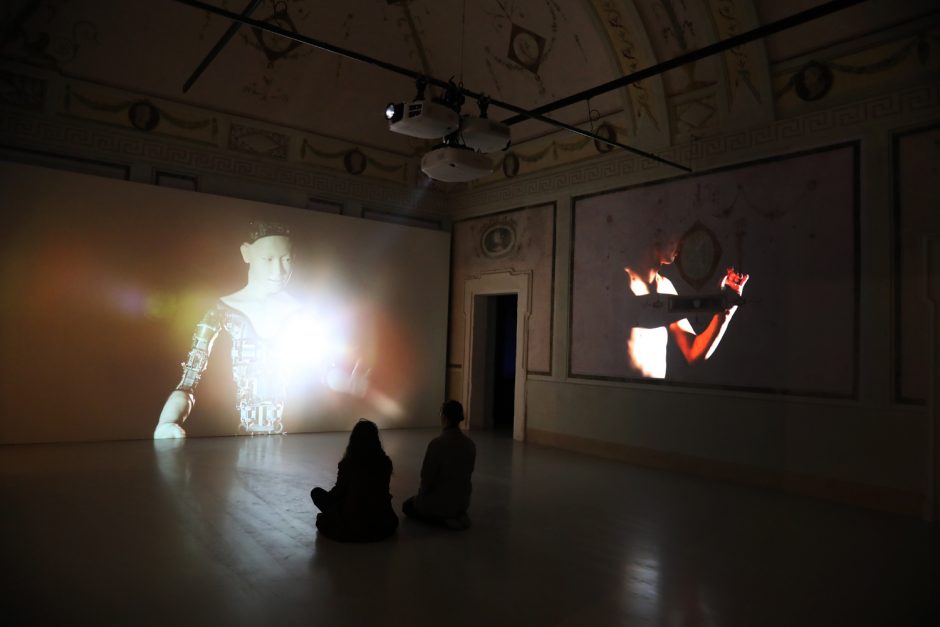 Avec Reborn, Justine Emard crée un lieu de rencontre entre deux formes de vie. Humain et non-humain dialoguent par les écrans interposés de cette installation vidéo, qui met en scène une interaction entre leurs sensibilités respectives.
Robot développé par les laboratoires associés de Hiroshi Ishiguro et Takashi Ikegami, Alter déploie son espace propre, par une gestuelle et une voix uniques, non calquées sur l'humain. Doté d'une intelligence artificielle, autonome dans son expression, il analyse son environnement et en déduit un langage sonore et corporel, pour y affirmer sa présence. Mirai Moriyama informe sa performance de cette singularité technologique. Son corps réapprend le mouvement à travers la vitalité inédite du robot. Ensemble, ils inventent la possibilité d'un monde.
Justine Emard nous propose un renversement de perspective. Le dialogue intime entre humain et robot s'établit dans une lumière originelle. Nous sommes les témoins des prémices d'une nouvelle Renaissance. L'Humanité n'est plus seule. Elle a donné naissance à un alter ego.
Pascal Beausse
---
« With Reborn, Justine Emard creates a place where two forms of life can meet. Human and non-human dialogue through the interposed screens of this video installation, which stages an interaction between their respective sensitivities.
A robot developed by the laboratories of Hiroshi Ishiguro and Takashi Ikegami, Alter deploys its own space, with unique gestures and voices, not modeled from humans. With an artificial intelligence, autonomous in its expression, it analyzes its environment and deduces a sound and body language, to affirm its presence.
Mirai Moriyama give substance to his performance of this technological singularity. His body relearns the movement through the previously unseen vitality of the robot. Together, they invent the possibility of a world.
Justine Emard proposes a reversal of perspective. The intimate dialogue between human and robot is established in an original light. We are witnesses to the beginnings of a new Renaissance. Humanity is no longer alone. She gave birth to an alter ego.  »
Pascal Beausse