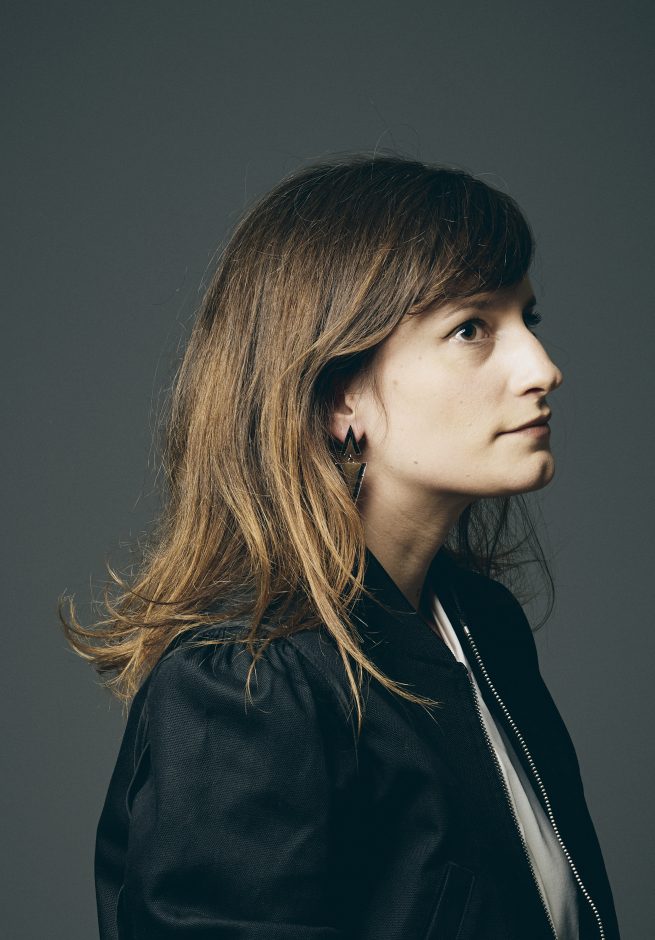 Justine Emard (née en 1987), artiste, explore les nouvelles relations qui s'instaurent entre nos existences et la technologie. 
En associant les différents médiums de l'image – de la photographie à la vidéo et la réalité virtuelle -, elle situe son travail au croisement entre la robotique, les objets, la vie organique et l'intelligence artificielle. Ses dispositifs prennent pour point de départ des expériences de Deep-Learning (apprentissage profond) et de dialogue entre l'humain et la machine. Depuis 2016, elle collabore avec des laboratoires scientifiques au Japon et est lauréate de la résidence Hors-les-murs de l'Institut Français en 2017 à Tokyo.
Son travail a été exposé à la Biennale internationale d'Art Contemporain de Moscou, le NRW Forum (Düsseldorf), le National Museum of Singapore, le Moscow Museum of Modern Art, l'institut Itaú Cultural (São Paulo), la Cinémathèque Québécoise (Montréal), le Irish Museum of Modern Art (Dublin), le Mori Art Museum (Tokyo),  le MOT Museum of Contemporary Art Tokyo  et le Barbican Center (Londres).
En 2020, elle sera  en résidence au ZKM (Karlsruhe) et elle est lauréate de la commande nationale photographique "IMAGE 3.0" du  CNAP (Centre National des Arts Plastiques) en partenariat avec le Jeu de Paume à Paris.
EXPOSITIONS PERSONNELLES / PERFORMANCES (sélection)
2020
Co(AI)xistence, solo show, Auckland Live Digital Stage, Auckland, Nouvelle Zélande
Dance Me Deep, performance, avec Christine Armanger, Le Générateur, Gentilly, France
2019
Co(AI)xistence, Cinémathèque Québécoise, Elektra Festival, Montréal, Canada
La Notte dei Tempi, Cloitre San Pietro, Fotografia Europea, Reggio Emilia, Italie
Altergraphy, Muppi Gallery, Vivarium Festival, Porto, Portugal
Heavy Requiem, performance avec Keiichiro Shibuya & Eizen Fujiwara, Ars Electronica, Linz, Autriche
2018
暁 La Nuit des Temps, Iki Archaeology Center, Nagasaki Islands Art Festival, Japon
Homo Ex Machina, Alliance Française, Bogota, Colombie
Mondes Apparents, exposition personnelle et œuvres de réalité augmentée dans l'espace public   Le Radar, Bayeux, France
Parade for the End of the World, performance, avec Jérémie Bélingard & Keiichiro Shibuya, Yokohama Redbrick Warehouse, Yokohama, Japon
2017
Reborn, Earth+ Gallery, Tokyo, Japon
Screencatcher, Musée des Beaux Arts de Clermont-Ferrand, France
있다, 잇다, 있다, exposition personnelle avec. Ye-Eun Min & Yun-Hee Lee, Cheonan Arts Center, Séoul, Corée du Sud
Digitally Scape, performance, Media Ambition Tokyo, live avec Keiichiro Shibuya, Kangding Ray et Taeji Sawaï, Mori Tower, Tokyo, Japon
2016
Realidades Inversas, Alliance Française, Bogota, Colombie
EXPOSITIONS COLLECTIVES (sélection)
2020 
Cherish your imagination, MOT, Museum of Contemporary Art, Tokyo, Japon
Human Learning : Ce que les machines nous apprennent, Centre Culturel Canadien, Paris, France
Dancing Machines, FRAC Franche Comte, Besançon, France
Wandering World, Nagasaki Prefectoral Museum, Nagasaki, Japon
Où est la différence ? Abbaye Saint-André, Centre d'Art de Meymac, France
Real Feelings,  HeK (House of Electronic Arts Basel), Bâle, Suisse
2019

Future and the Arts, Mori Art Museum, Tokyo, Japon
Desire in Art from the 20th Century to the Digital Age, Irish Museum of Modern Art, Dublin, Irlande
AI: More Than Human, Barbican Center, London, Angleterre
AI: More Than Human, Forum Groningen, Pays-Bas
Roppongi Crossing 2019: Connexions, Mori Art Museum, Tokyo, Japon
Cybernetic Consciouness, Itau Cultural Center, Sao Paulo, Brésil
Digimuse, National Museum of Singapore, Singapour
Jusqu'ici tout va bien—Archéologies d'un monde numérique, Biennale Némo, Le Cent-Quatre, Paris, France
Pulsions, The 836 M Gallery, San Francisco, USA
Cité by Night, Cité des Arts, Saint-Denis, La Réunion, France
Macro Asilo, Maxischermo, Macro Museum, Rome, Italie
2018
Fukami, une plongée dans l'esthétique japonaise, curatrice: Yuko Hasegawa, Hôtel Salomon de Rothschild, Paris, France
Hiroshima Art Document, Former Bank of Japan, Hiroshima Branch, Hiroshima, Japan
Daemons in the Machine, curatrice: Daria Parkhomenko, Moscow Museum of Modern Art, Moscow, Russie
Pendoran Vinci, NRW Forum, Düsseldorf, Allemagne
ERROR—The Art of Imperfection, Ars Electronica, OK Cyberarts Center, Linz, Autriche
Paysage Fiction, curateur: Charles Carcopino, Tétris, Le Havre, France et Le Bel Ordinaire, Pau, France
Antibody, Glassbox, Paris, France
Human Future, Biennale Internationale d'Arts Numériques, Enghien-les-Bains, France
2017
Clouds—Forests, 7ème Biennale internationale de Moscou d'Art Contemporain, curatrice: Yuko Hasegawa, The State Tretyakov Gallery, Moscou, Russie
Directing the Real: Artists' Films and Video in the 2010s, curateur: Leonardo Bigazzi, Palazzo Medici Riccardi, Florence, Italie
Mitate & Imagination, curateur: Tetsuya Ozaki, Former Junpu Elementary School, Nuit Blanche, Kyoto, Japon
Le Secret, YGREC, Paris, France
2016
350 ans de création, les artistes de l'Académie de France à Rome de Louis XIV à nos jours, Villa Médicis, Rome, Italie
Hiroshima Art Document, Former Bank of Japan, Hiroshima Branch, Hiroshima, Japon
Commotion, Programme Hors-Pistes du Centre Pompidou, Superdeluxe, Tokyo, Japon
RÉSIDENCES
2020 – ZKM | Centre d'art et de technologie des médias, Karlsruhe, Allemagne
2019 – Le Centquatre-Paris, France
2019 – Labo Art+Artificial Agents, University of Maine, USA
2018 – Iki Island, Nagasaki islands art festival, soutien de la préfecture de Nagasaki et de l'Institut Français, Japon
2017 -Résidence "Hors-les-murs", programme de recherche et de création de l'Institut Français
2017 -Tokyo Wonder Site (Tokyo Art and Space – TOKAS), Tokyo, Japon
2015-2016 – Cité Internationale des Arts, Montmartre, Paris, France
2011-2012 – "Écritures de lumière", résidence photographique, DRAC Auvergne, Ministère de la Culture, France
2010-2011 – Résidence expérimentale dans un centre de réalité virtuelle, Clermont-Ferrand, France
PRIX
2020 – DIGITALE ATTITUDE « Les 10 femmes de l'année », Madame Figaro,  France
2018 – Prix « Best contemporary experimental short », Sapporo Short Film Festival, Japon
Prix HUMAN FUTURE, Compétition internationale des Bains Numériques #10 d'Enghien-les-Bains, France
2017 – Prix de L'Oeuvre institutionnelle 2017 par la Scam pour le film « Par où commencer ? », France
Lauréate de la bourse Pierre Schaeffer, brouillon d'un rêve, SCAM, France
2013 – Aide individuelle à la création, DRAC Auvergne
2011 -DICRéAM ( aide aux installation numérique du CNC) , Ministère de la culture et de la communication, CNC, CNL
-Aide à l'installation matérielle pour les artistes, DRAC Auvergne
CONFÉRENCES
2021 – Frac Franche-Comté, Besançon
2020 -L'urgence des alliances, Théâtre de la Ville avec Télérama et la Scène de recherche de Paris-Saclay, Paris
-Artificial Empathy, ZKM, Karlsruhe
– Forum Vertigo, Centre Pompidou
-Posters brunch, Le Générateur, Gentilly
2019 – InterAccess Gallery, Toronto, Canada
-Artience Daejeon, Corée du Sud
(…)
FORMATION
2008 – Semestre à l'Université d'Oklahoma, Etats-Unis
2010 – Diplôme National d'Expression Plastique, École Supérieure d'Art de Clermont Métropole, Clermont-Ferrand
2013 – Master II « Conduite de projets culturels » Université Blaise Pascal, Clermont-Ferrand