Emotions are the core of human experience. The international group exhibition Real Feelings explores the rapidly changing relationship between technology and emotions. The works of the 20 artists presented in the exhibition inquire and show how technology today represents, manipulates and changes our emotions.
In the 21st century, emotions have increasingly come into focus – how they can be manipulated and controlled by technology, because they influence our society and our lives. Today major technology companies try to manipulate the way we behave by triggering our emotions everyday through smart phones, laptops and personal devices. Machine learning systems can 'read' facial expres¬sions to determine human emotions. At the same time, young children are being trained to recognise emotions in other human beings – because their ability to do so is failing in the digital age. The barriers between human and machine, emotion and technology seem to be breaking down. Our heartbeat, perspiration, speech, or body language are checked by smart watches or fitness trackers, webcams and facial- and body-recognition systems. In the 21st century we are seeing the rise of investigations into emotional technology, which stands for measuring biometric data in order to detect and respond to our emotions, which is then used as data input for various digital applications. Advances in machine learning have enabled emotion recognition with AI. Our world is flooded with digital technology and these devices have literally become extensions of ourselves: humanlike robots are used in healthcare, sex robots are compensating the shortcomings of human relationships, smart devices are listening to our conversations and are taking care of our needs – we are communicating more with our technology than with other humans.
As the emotional intelligence gap between humans and machines grows narrower – do we actually know how we really feel? Who is in control of our emotions now? Is technology beginning to influence how we feel? These difficult questions and more are raised in the course of the exhibition as visitors encounter diverse works which challenge, provoke, and explore how technology is representing, influencing and changing our emotions.
A comprehensive catalogue will be published to accompany the exhibition, documenting the works in the exhibition and featuring current scientific and artistic contributions.
Artists: Antoine Catala (FR), Stine Deja & Marie Munk (DK), Heather Dewey-Hagborg (US), Justine Emard (FR), Cécile B. Evans (UK), Ed Fornieles (UK), Maria Guta & Adrian Ganea (CH/RO), Esther Hunziker (CH), Seokyung Kim (KR), Clément Lambelet (CH), Lorem (IT), Kyle McDonald & Lauren McCarthy (US), Simone C. Niquille (CH), Dani Ploeger (NL), Lucy McRae (AU), Shinseungback Kimyonghun (KR), Maija Tammi (FI), Troika (UK), Coralie Vogelaar (NL), Liam Young (AU)
Curators: Sabine Himmelsbach, Ariane Koek und Angelique Spaninks
Real Feelings. Emotion and Technology, 27.08.2020 – 15.11.2020, HeK (House of electronic Arts Basel). Photo by Franz Wamhof.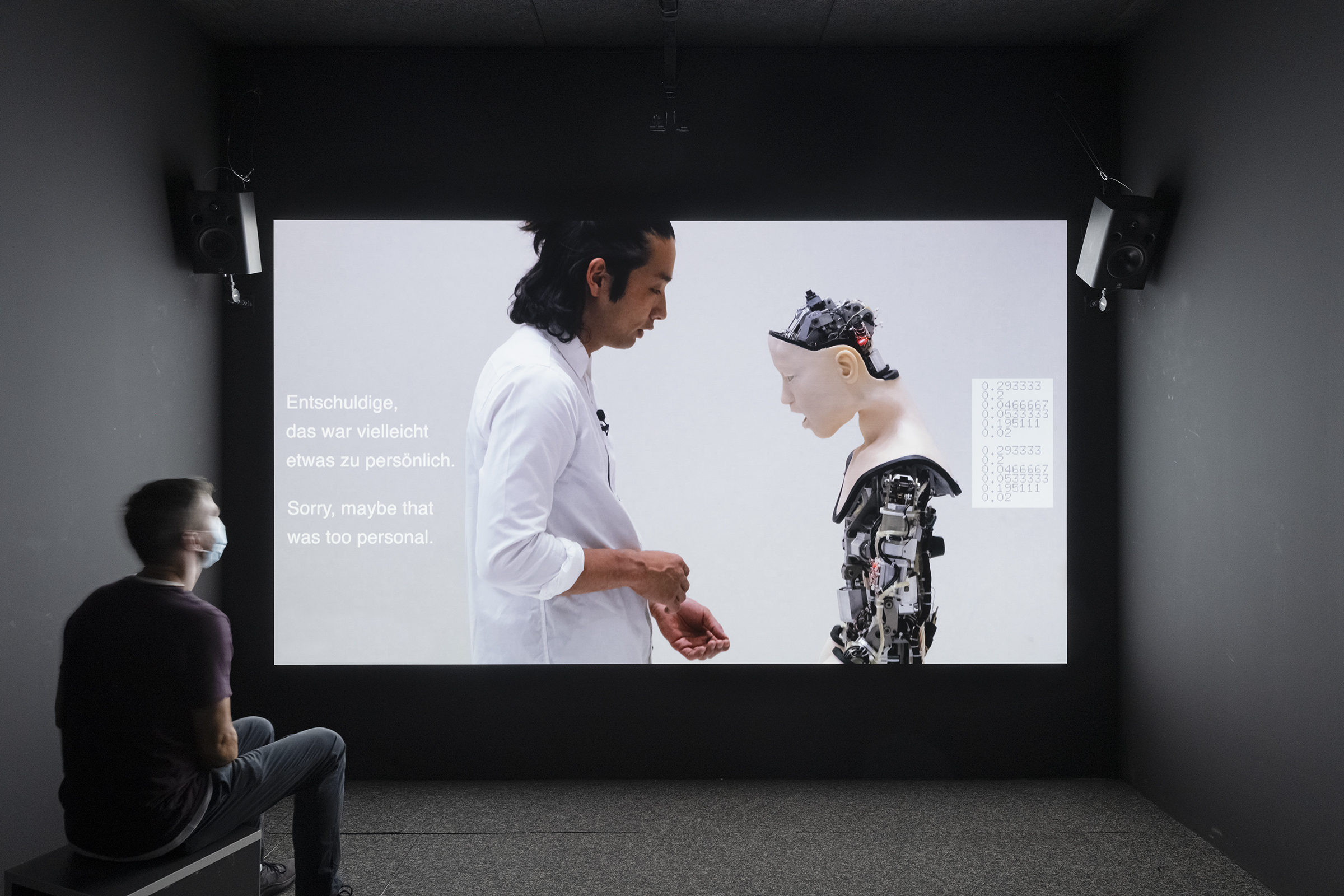 Justine Emard
Co(AI)xistence, 2017
In her video installation Co(AI)xistence, Justine Emard lets the Japanese dancer Mirai Moriyama meet the robot Alter and interact with him in a pas de deux. Animated by artificial. intelligence, the robot reacts to the dancer's movements. Its neural network and sensors enable it to react to the unexpected. In her work, Emard explores the new relationships that develop between our lives and advancing technology. She shows us communication between human and machine in poetic and visually impressive images. We are touched when the machine, in its exploration of the environment, seeks contact with the hands or makes guttural sounds. Human and robot conduct a dialogue using the signals of their respective languages, both physically and verbally. The machine learns from the encounter with the dancer, becomes a "mirror of ourselves", as the artist says. In doing so, the machine is deliberately not passed off as a human being; its technoid inner life is partially exposed and reveals its mechanical construction – which can be shocking, frightening and beautiful at the same time.
Justine Emard, born in 1987, is a French artist.
She lives and works in Paris.