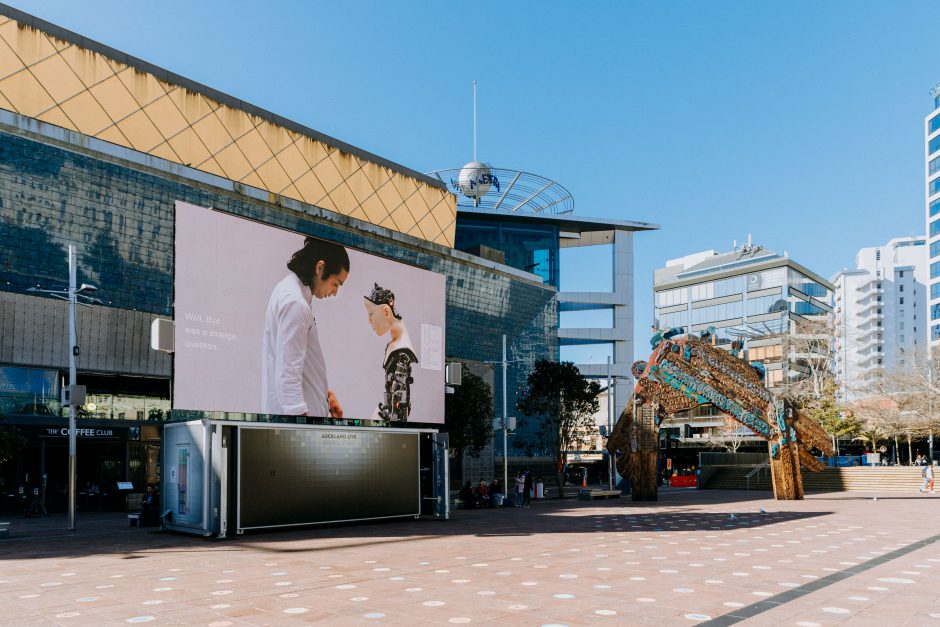 From July 29th to August 20th, 2020 
This artwork, created as an experience, re-enacts the meeting between the robot Alter and a human being, embodied by the dancer Mirai Moriyama, on the Auckland Live Digital Stage. Together, they create a mesmerising on-screen dance through sharing signals and verbal and body language.
This digital artwork showcases a vision of the future where robots and humans share experiences and at the same time define new ways of coexisting in the world.
Co(AI)xistence has been exhibited around the world and been part of major contemporary art exhibitions. The Auckland Live Digital Stage season is the first time the work has been presented in an outdoor context.
The 12-minute video screens on a daily loop at 11.30 am, 1.30 pm and 4 pm.*
*Screening times may change due to weather and other factors.
Aotea Square
291-297 Queen Street, Auckland
New Zealand
---
Du 29 Juillet au 20 Août 2020 
Cette œuvre, créée comme une expérience, présente la rencontre entre le robot Alter et un être humain, incarné par le danseur Mirai Moriyama.
Ensemble, ils créent une danse hypnotique, en dialoguant par l'échange de signaux verbaux et corporels. Nous pouvons y entrevoir une vision de l'avenir, où les robots et les humains communiquent, en ébauchant de nouvelles façons de coexister dans le monde.
L'installation vidéo Co(AI)xistence a déjà été exposée en de nombreux lieux dans le monde entier, à l'occasion d'importantes expositions d'art contemporain. Pour le Live Digital Stage d'Auckland, c'est sa première présentation dans un contexte extérieur, sur un écran de 9 mètres.
La vidéo de 12 minutes est diffusée en boucle tous les jours à 11h30, 13h30 et 16h*.
*Les heures de projection peuvent changer en raison de la météo et d'autres facteurs.
Aotea Square
291-297 Queen Street, Auckland
Nouvelle Zélande
https://www.aucklandlive.co.nz/show/coaixistence